Please feel free to contact us even if you don't have a drawing. We design the resin products even from the concept stage and perform mold manufacturing and small-lot mass production in-house. In addition, designs will be proposed based on the understanding of manufacturing.
Proposal will be provided from the development stage
The selection of the processing method such as cutting processing, vacuum casting and injection molding is determined by the material used and quantity. The plastic parts we design are optimized for the processing method.
Please feel free to contact us even if you are in the concept stage of your new product invention
We will start from the design stage if design of the existing parts is required to be changed.
Restoration will be realized by reverse engineering if there is only the actual item
Scientific resin design with flow analysis
Please contact us for the projects that are rejected by other companies. Since establishment in 1968, we have introduced CAD/CAM and analysis software from an early stage. In addition to our know-how of resin design , we have established a system that does not rely solely on experience.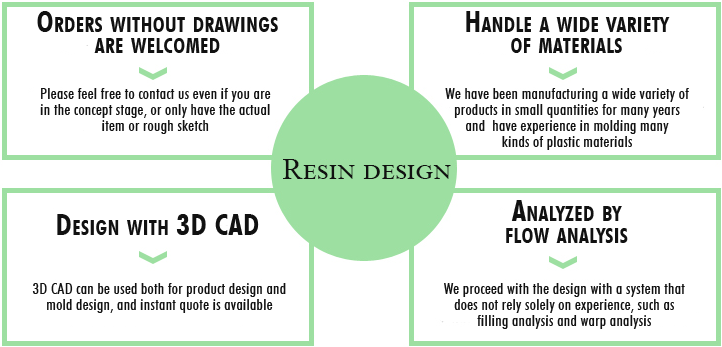 Aggressive VA/VE proposal
We are proactively making VA/VE proposals which fully apply the know-how of plastic processing cultivated through long years of experience in order to solve the problems that our customers have in product manufacturing. We consider ourselves to be the partners of our customers in product launches which is the reason that we will not only realize the requests, but also strive to make proposals based on the understanding of the true need of our customers. Softwares used / SolidWorks, spaceE, invento

About contact
Please feel free to contact us.