Daytech provides high-quality molds for the R&D department and acts as a partner to promote the product launch from prototyping to small lot mass production.
We respond quickly to injection molding of various materials and shapes.
We manufacture molds using aluminum material (A7075S) with excellent machinability. Furthermore, we will respond quickly to the needs of the R&D department by utilizing the experience that Daytech has accumulated while working on the small lot molding.
| | | |
| --- | --- | --- |
| | General | Our technology |
| Usage | Prototyping(Test pieces before mass production) | Prototyping and reliability test at development phase. Small lot mass production. |
| Material | Steel, NAC80, etc. | A7075S, depending on the usage. |
| Possible number of shots | 500-1500 | 10,000 shots, depending on the shape. |
| Supported plastic materials | Mainly general-purpose plastic | Aslo handle engineering plastics. |
| Supported plastic shape | Simple shape. | Complex shapes are available |
| Supported surface treatment | Limited. | Wide variety of options. |
We manufacture at high speed by directly processing the mold (A7075S) with less restrictions. A7075S, which is also known as extra super duralumin, is the strongest material among aluminum alloys and is used in aircraft as well.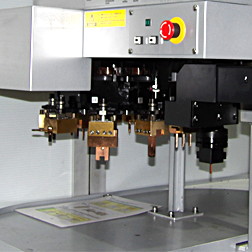 We handle fine shapes which are difficult to achieve by cutting and helical shapes with ATC (Automatic Tool Changer) and die sinking electrical discharge processing machine with an additional axis. We divide and produce the electrodes in-house aiming to automate the mold manufacturing by ATC.

Please let us know if you have any request.



Achievements which have been made
We respond to the following inquiries by our "molds".
Request for molding under some certain conditions with the materials provided.
Require the mold to be manufactured using engineering plastic material within short delivery periods
Request for a molding sample with a complex shape like a connector
Cutting processing has been carried out because the number of lots is small, can it be replaced with injection molding?
Mass production mold and prototype mold

The mold for mass production (mass production mold) of plastic products use the steel materials which matches the mass production lot. The durability that hundreds of shots can be molded is required to achieve by using hard materials such as NAC material, heat-treated steel and hardened steel.

The prototype mold is manufactured by processing high-strength aluminum material instead of steel material so that it is suitable for molding 1 to 1,500 pieces of plastic as a mold for the prototype stage and mass production small lot. The lead time and the cost can be significantly reduced, and the quality and dimensional accuracy are the same as those of the mass production type, although there are some restrictions on the shape and materials.


Daytech takes the prototype mold which is especially for the small lot mass production as the "mass production and small lot mold" and has accumulated our original know-how in the molding manufacture corresponding to "1 to 10,000 pieces", which is different from the generally called "prototype molds".
The quantity is large for prototyping
Shapes and resin materials that are difficult for cutting processing
The number of lots is too small for the products to transfer to mass production

In such cases, the cost is reduced by about half compared to the case where resin cutting is performed each time.
Unique technology for small lot mass production molding
The product accuracy (from ± 0.02 to ± 0.05) of the prototype mold manufactured by Daytech is equal to or higher than that of mass production mold. Since the aluminum material used for molding is the type of aluminum for molds (class 75), the hardness and machinability of aluminum are significantly different from those of general aluminum.

Aluminum molds are directly machined by cutting processing and electrical discharge machining, the method of which has overwhelming advantages in terms of cost and delivery time.
We are able to realize the precise and complex shapes as we have excellent techniques for special processing such as die sinking electrical discharge machining and small hole electrical discharge machining.
Cost reduction can be realized by utilizing A7075S aluminum plate for mold-based cabinet and the core part
Mass production can be handled effectively and PPSG (super engineering plastic) can be molded without any problem.


The opening and closing of the mold can only be moved from left to right or up and down, and the shape that cannot be removed by normal mold movement is called undercut. Daytech is able to realize the compact mold by utilizing the placing piece and handle the change of mold shape flexibly with blocking the part that are expected to change the shape in advance.
Cutting and discharge time can be shortened by adopting the method of placing piece
The shape changes will also be handled flexibly
The compact mold with complex shapes can also be achieved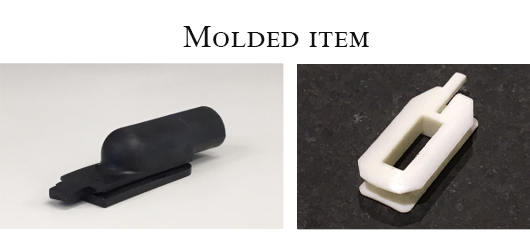 As for the cassette mold, the parts related to the product of the mold can be replaced as a cassette type and the parts that can be shared are used to share. The shared parts are standardized in-house, and molds can be manufactured with short delivery time and low cost.
The construction period is shortened and the cost is lowered as only the essential molds are made
Reduction of material cost and the saving of storage space
Suitable for small lot production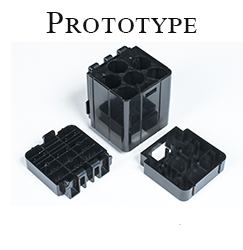 The prototype mold even has a durability of 10,000 shots. The material A7075S for molds is used in the up-to-date machine tools such as high-speed machining center and linear electrical discharge (die sinking electrical discharge, wire cut electrical discharge) machines. We have been challenging all issues relating to delivery time, quality and cost.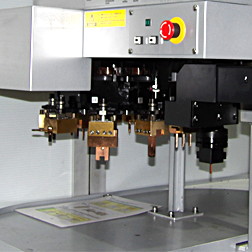 We handle shapes which are difficult to achieve by cutting with ATC (Automatic Tool Changer) and die sinking electrical discharge processing machine with an additional axis. We manufacture electrodes in-house and strive to automate mold manufacturing with ATC.
About contact
Please feel free to contact us.