We propose molded products characterized by mold manufacturing and operation system that can support a wide variety of small lots, which are more advantageous than the method of cutting processing, though many cutting processeings do not require mold in the case of small-lot plastic manufacturing.
We propose replacing cutting processing with injection molding to reduce the cost
The merit of making a mold is that even though the initial cost is high, the unit price per product can be greatly reduced. However, in the field of industrial equipment, there are many situations where the entire lot is reasonably well, but the number of lots ordered at one time is small.

The unit price per piece does not decrease as cutting is selected in those kinds of situations in many cases.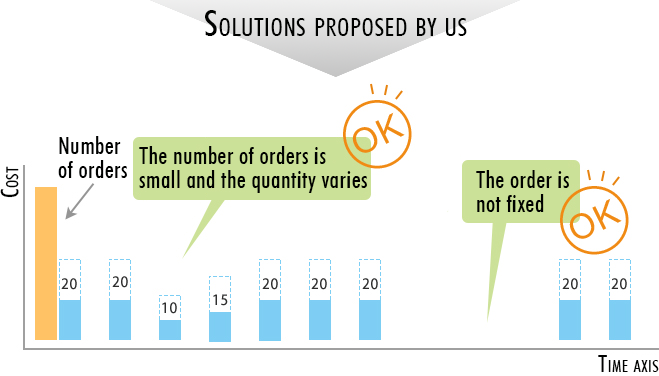 Making a mold as an initial investment may result in a cost reduction per piece. Please feel free to let us know your current ordering interval, quantity and cost. We will respond by changing the design of the current parts to match injection molding.
Factors that make it difficult to handle injection molding in small lots of various products
In the first place, injection molding is a method for manufacturing products of the same quality in large quantities at low cost. At Daytech, we have realized the injection molding even for small lot, owing to our original ingenuity on both the mold manufacturing method and the manufacturing system.
| | | | |
| --- | --- | --- | --- |
| | Cutting processing | Injection molding | Injection molding of our company |
| Initial investment | Not required. Or jig production is required in the case of complex shapes | Mold manufacturing is required, cost is higher and delivery period is longer | Cost can be reduced and delivery period can be shortened by aluminum prototype mold |
| Setup time | Shorter than injection molding | The changeovers such as mold installation and preheating take much time, and the unit price per product comes up. | Compact the mold by the know-how of placing piece design. Changeover time is reduced significantly |
| Lot size handled | From 1 piece | The basic manufacturing method is mass production, which is because the cost is rather expensive though manufacture is possible even the order is one piece | Cost is lower than cutting processing depending on the quantity |
| Unit price per piece | High price | Low cost for large quantity | Low cost even for small quantity(depending on the shape) |
About contact
Please feel free to contact us.